Thank You
To Whom it may concern:
I am writing to express my thanks and appreciation for the great service that we received from two of your employees Corey and Larry.
On Tuesday afternoon, I was in your office to pay my bill and advised that my Mom and Dad's place (the late Ben Lee) had a sink hole appearing in the lawn. I was pleasantly surprised when, within minutes of my returning to the family home I saw a Rutland Waterworks vehicle outside. Corey shut the water off and noticed that the valve wasn't working properly. He did a sound test and advised me that indeed there was a problem and that they would return in the morning to remove and repair the valve. He thoughtfully turned the water back on so my Mom would continue to have water overnight.
The next morning Corey called to let my Mom know that they were coming so that she would have enough notice to have some water in reserve. As the work proceeded both Corey and Larry kept us updated on their progress and were very informative on the steps involved. It was quite the process. Vacuuming the dirt away, freezing the water pipe and removing /replacing the valve, trucking in gravel, packing it down and then another truck load with topsoil.
Mom and I were amazed at how quickly the work was completed and in just a few hours.
Thanks again to all your employees involved and special thanks to Corey and Larry for their incredible customer service and professionalism.
Sincerely,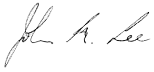 John G. Lee